Nice and cool morning in Bagan, last check that our waterproof bags and camera equipment are strapped tightly on the new back rack that was welded day before. We (I and my girlfriend) were all set for the motorcycle journey. I had loaded map app to my mobile and could see approx. 60% of the roads we intended to take, rest would be part of the adventure and depend on people we meet along the way and finding the way. We had reserved enough time expecting the unexpected to happen. Our trip was about discovery, no support team, pre-arranged bookings or tour guides.
Soon after taking off from Bagan we rolled in to Texas of Myanmar, Chauk, where on shore oil pumps have been producing crude oil for around 100 years already if not more. Crossing the Ayeyarwaddy River from Chauk we rode across dry plains of Magwe division to the lush and green Chin Hills that dramatically start climbing up from Saw town. The crown jewel of the mountain range is the 3053m high Mt Victoria/ Natma Taung or Khaw Nu Soum in Chin language. It is highest mountain in Chin state and an ultra-prominent peak with over 2200m vertical elevation. Nat Ma Taung National Park area extends along the range and has some beautiful forest left and different kinds of unique flora and fauna. It is well worth spending couple days in Kanpetlet the regional hub making walk to the near-by villages. Most rewarding way to reach the summit of Nat Ma Taung is by foot. Take trekking guide to make sure you don't get lost in the wilderness. We took the easy way up because we could and drove with motorcycle all the way to the summit.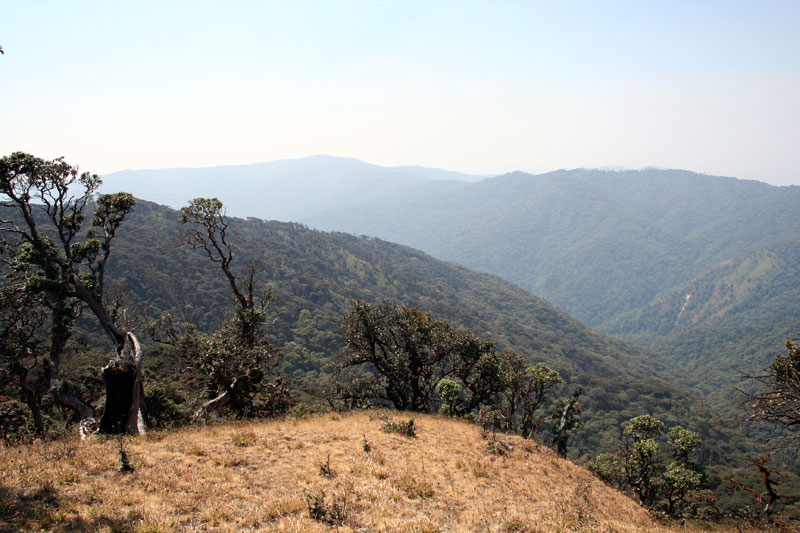 This time we did not need to rough it in Kanpelet but enjoyed fantastic views, tasty food, warm showers and very attentive service at the Sky Palace Resort.
After farewells to our new friends in Kanpetlet we continued with adventurous ride to Mindat traversing the mountain range through lush jungle still largely untouched. I could now better understand why this has been seasonal road for so long. Some parts will get seriously muddy during rainy season, landslides happen and it can be too slippery to climb some of the steep slopes. During the 5-6 hours drive in the forest we only saw 1 car and couple motorbikes heading to Kanpetlet no villages nor filling stations here.
The drive to Mindat was very scenic and we were blessed with amazing sunset just before arriving to the town on a very bumpy road. It was a delight to find a real restaurant in Mindat with good Myanmar, Chinese local dishes.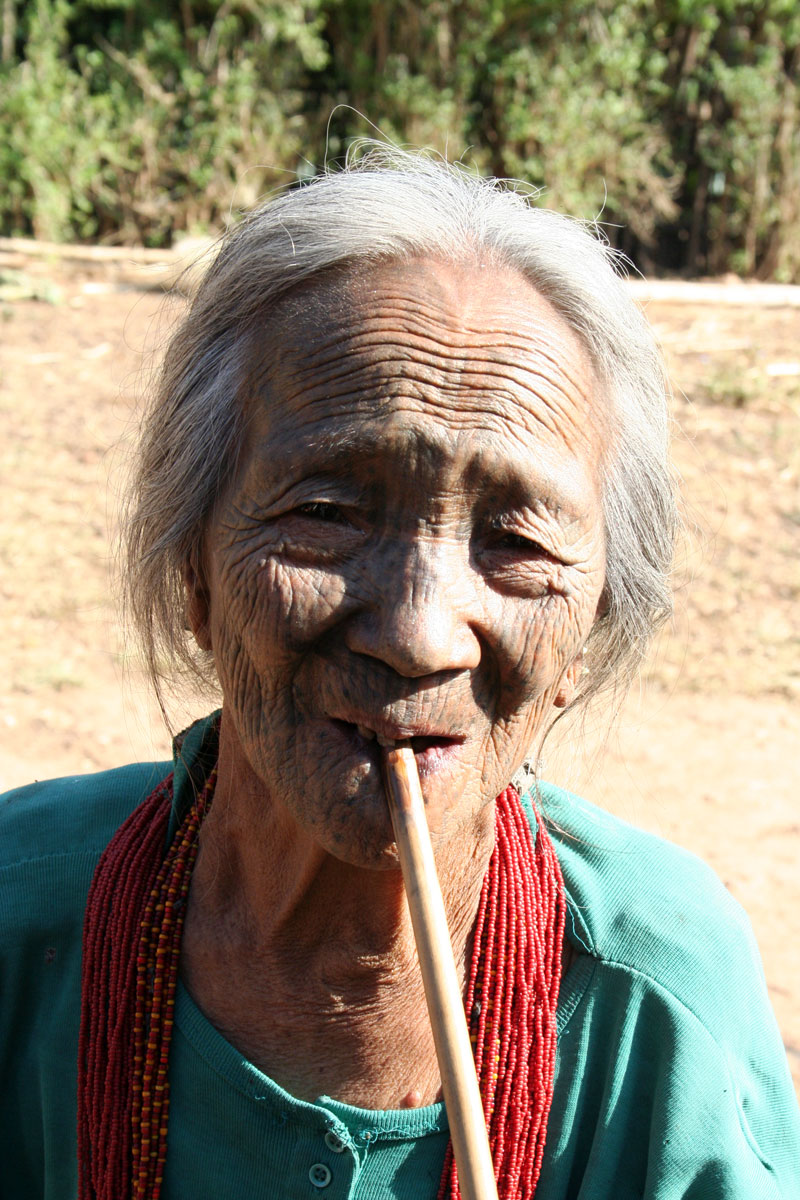 Although not in the restaurant menu you might be able to get a glass of local specialty "Millet brew" delivered from the next shop by one of the waiters.
Mindat is nice a little town and trading hub for southern chin state built on the ridge of a mountain range and a good base for day explorations to local villages. Many Chin ladies in this region still have traditional facial tattoos. The facial tattooing tradition still remains, and according to locals it dates back to Burmese kingdoms times when chin women were sought after concubines in the royal harem. By tattooing faces Chin ladies were disqualified from selection.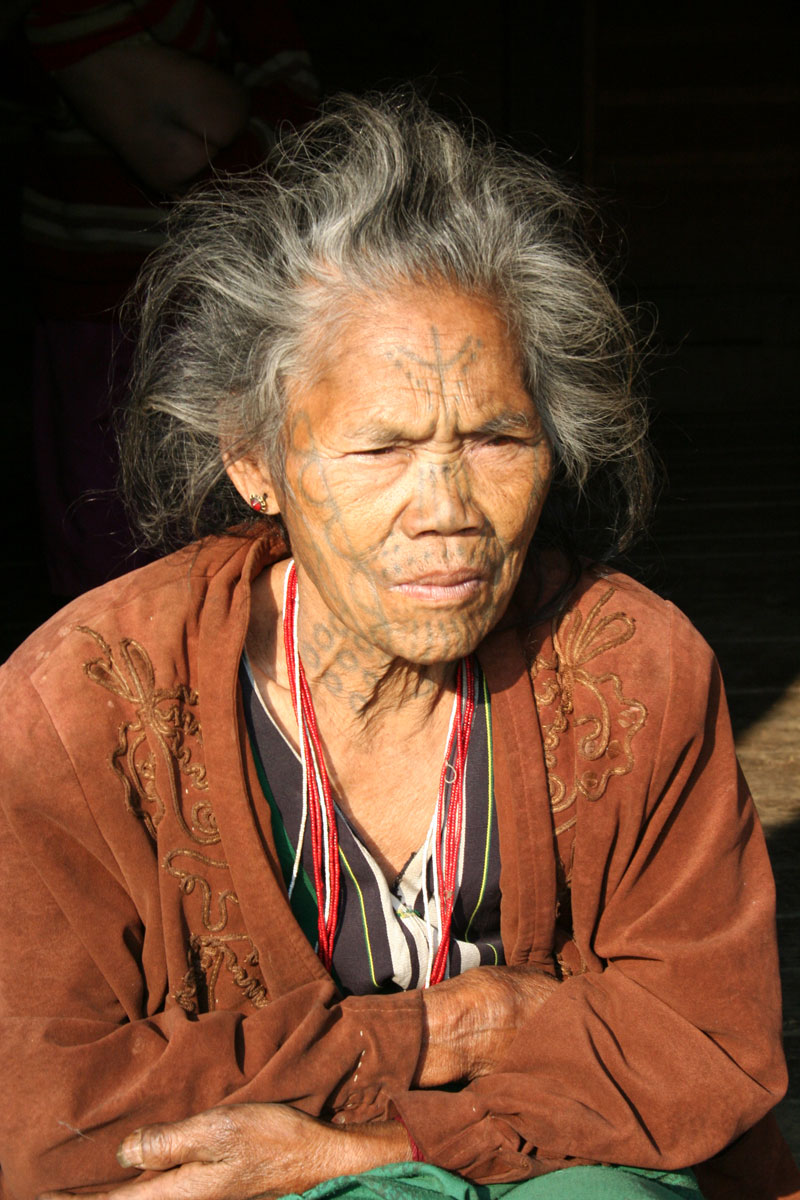 Our host in Mindat was pastor Peter whom we had met on motorbike in Kanpetlet a few days earlier.
Peter showed us around town and was great help with finding the right mechanic for motorcycle maintenance. Most of the Chins are Christian, missionaries have introduced Christianity long ago and animistic traditions and beliefs have largely vanished. Evidence of the popularity of Christianity can be seen everywhere in town. There now more than 20 churches that represent all schools of thought. Peter is Baptist and has his own church, a modest wooden house. In the back of the building is frame of the new bigger church that his community has been building collectively for the past 2-3 years, still long to go says Peter.
Bye Bye Mindat and hello Northern Chin State. There is no direct way so we drove down from the mountains through Tilin and Gangaw towns and did not find the smoothest roads but all worked out well with right kind of bike for the rocky ride.
The drive to Hakha proved both exciting and challenging. The mystery road which would not show on my map app or in Google maps existed after all. This was really scenic and adventurous dirt bike ride with very few villages with supplies. There was 1 inch mud layer on slippery rocks which made downhill parts at times with sketchy but we managed without falls. Mud pools of water made this day proper dirt biking and we felt relieved when reaching better road near Hakha just after getting dark.
Hakha has a feel of a real frontier town, until couple years ago foreigners could visit Hakha only with special permits. There are virtually tourism services available. Couple a few local hotels/ guest houses. Most shops are clustered along the main road. You could still feel the excitement and curiosity of having foreign tourists in town. Very few make it here with the grueling 24hr bus ride from Mandalay.
From Hakha it was a nice drive to Falam the second largest town in Chin state. Falam is not as sparsely spaced as Hakha and is built on a steep mountain slope. It was easy to find our friend Griffin in town who was the only expatriate in Falam teaching talented local youths.
Our little guest house here was was basic, hard mattresses in small and run down looking house with dim light in the room when there was electricity. Nevertheless our host "Moses" and his family were extremely sweet and hospitable that it made up all short comings.
Our kyats reserves were finished already in Hakha and there was no money changer in the town, Moses helped us to get sorted and we went from shop to shop to finally arriving to bank manager's apartment who was kind enough to change 50usd to kyats from his pocket that we could buy petrol and food and get to Kalay. If you ever travel to Hakha and Falam make sure you bring large enough pile of Kyats the local banks will not exchange currencies.
The drive to Kalaymyo from Falam was beautiful, the road being equally poor as between Hakha and Gangaw but scenery is amazing. Although most trees have been cut long ago the dramatic hills, deep valleys and gorges never stopped to impress. Kalay felt like large metropolis after chin state towns and had good accommodation, banks and variety of restaurants.
We had managed get a line to call to my office in Yangon and they issued to ticket for my girlfriend to fly back to Yangon and I continued the ride from Kalay to Mandalay next day. Driving along Chindwin river on a misty morning, water buffaloes and people walking through the haze and morning sun shimmering was one of most memorable moments of the journey. I could drive now much faster on flat and smoother road with less valuable load on the bike.
The 11 hours drive was mix of bliss and frustration. Very rocky and bad forest road that felt endless required constant concentration and quick moves to avoid hitting large rocks with speed. Finally after long mountain range crossing arrived welcome relief of new perfect tarmac road with no traffic and some downhill. Full throttle down on top gear I was feeling elevated for making great progress to Monywa and on to Mandalay reaching there by dusk.
Completely covered in dirt and dust with huge smile on unshaven face I checked into first hotel in Mandalay, a new one, hoping that there no one who would know me, for I looked like after crawling out of a gutter.
This article was published in My Magical Myanmar Travel Magazine in July 2015 issue the author is owner of Discovery Rides & Discovery DMC Travel Company and has resided 10 years in Myanmar. and organizes motorcycle and scooter tours and adventure travel trips in Myanmar.