This guided tour will introduce you to the cultural highlights and most famous destinations in Myanmar. From the bustling streets of Yangon to the awe-inspiring temple plains of Bagan.
The Irrawaddy Delta covers an area of over 1000 square miles with Rangoon, its most famous port and capital of all Burma from 1886 to 2005. Originally a vast inhabited wetland and jungle, much of it was cleared and cultivated by the British who annexed Lower Burma in 1855. It subsequently became the rice basket of Asia, effectively feeding much of the Indian Raj. During this period of prosperity a number of rice towns developed in the colonial style. The most famous of which was Bassein. The Irrawaddy Flotilla Company by the 1920s operated over 100 creek steamers across the Delta connecting these towns and villages at a time when there were neither roads nor bridges.
There are seven main channels and myriad lesser ones forming a complex labyrinth of waterways understood only by the most experienced pilots. In the backwaters there is the feel of Kerala, on the larger channels it could be New Orleans and the Deep South.
Contrary to expectation these great wetlands are not monotonous at all and there is considerable human interest in the form of pretty towns, markets, temples, churches and mosques. There is also profuse bird life in the less populated areas.
Our 7-night programme aboard the stunning Katha Pandaw enables relaxed exploration of this fascinating region, starting and returning to Rangoon.
| | |
| --- | --- |
| PRICE: | From |
| DURATION: | 8 Days / 7 Nights |
| TOUR STYLE: | River cruise |
| DESTINATIONS: | Yangon, Pyapon, Bogale, Maubin, Wakema |
| TOUR CODE: | |
| DEPARTURES: | As scheduled |
| STARTS: | In Yangon |
| ENDS: | In Yangon |
Enquire Now
Request Full Itinerary
Highlights
Relaxing journey with Pandaw care
Small riverside towns of Irrawaddy Delta
Visits to local communities
Itinerary in Brief
DAY 1: Cruise Yangon to Pyapon
DAY 2: Pyapon to Bogale
DAY 3: Bogale to Myaungmya
DAY 4: Myaungmya to Pathein
DAY 5: Leisure in Pathein. Optional tour to Ngwe Saung
DAY 6: Pathein to Wakema
DAY 7: Wakema to Maubin
DAY 8: Maubin to Yangon
Tour Details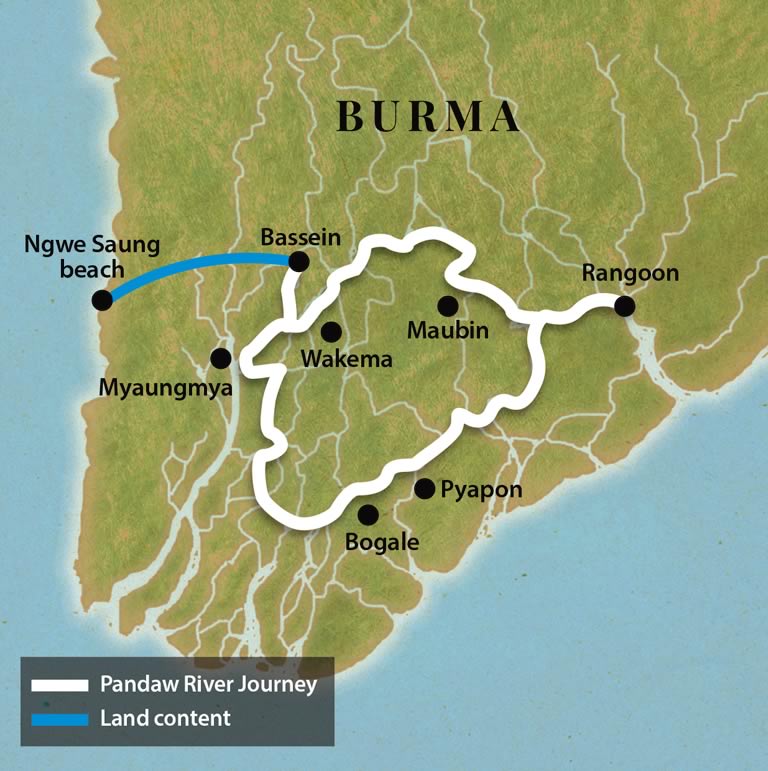 River Cruise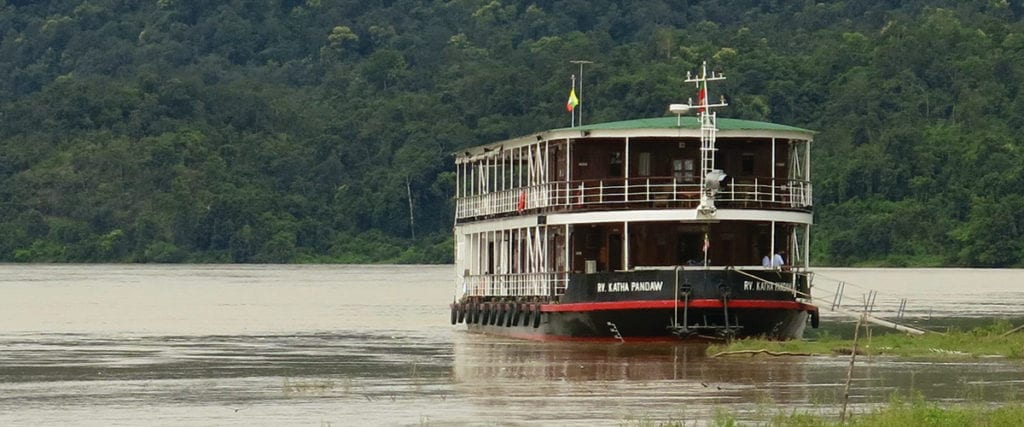 Superior
This was a radical new design, based on the old K class used in Burma from the 1880s on. This ship is the third Katha to run on the Irrawaddy. The first was built at Dalla in 1887 but lost on the Chindwin in 1889. The second was built by Denny of Dumbarton in 1904 and decommissioned in 1937 and the third was built by us in Vietnam in 2012.
We ran her a year on the Mekong before sending to Burma. With only two decks these smaller K class ships have lower air draft so can get under bridges and supposedly a shallower draft, though in fact the Vietnam ship yards were not as successful in achieving this as the Burmese yards and later Burmese-built K class ships achieved remarkable reductions in draft.
The Katha general arrangement was radical in that we eliminated the formal indoor dining room. This led to great protests from regular passengers and indeed our staff. In the end all agree it is far more pleasant to eat outside than in a stuffy, noisy enclosed dining room and the bugs are really not that bad. Up river in Burma it can be a little cold in winter but currently we deploy this ship in Middle Burma where the cold is less of an issue.
The ship has quality mountain bikes for your independent exploration.
Private tours and transfers with air-conditioned vehicles as specified in our itinerary
2 bottles of water & 2 refreshing towels per passenger per day
Lodging with breakfast as specified in the itinerary
Luggage handling fees at airports
Entrance fees
Guide services (English language)
Gratuities to crew
Main meals, locally made soft drinks, local beer and local spirits, jugged coffee and selection of teas and tisanes, mineral water.
International flights
Port dues (if levied), laundry, all visa costs, fuel surcharges (see terms and conditions),
Imported beverages such as wines, premium spirits and liqueurs, fancy soft drinks like Perrier, espressos and cappuccinos at bar
Tips to tour guides, local guides, bus drivers, boat operators and cyclo drivers.
Drinks during meals, hotel extras and expenses of personal nature
Camera & video fees. Some of the sites visited may ask small fees for photographing and video recording.
Meet Jan our Myanmar Expert
Contact Jan to book this trip or to customise the trip in any way you like. We're here to help.
Drop us a line
WHAT OUR CLIENTS ARE SAYING
About This Tour
The program worked out just great with fantastic guides and drivers, always on time and so friendly and knowledgeable. I will definitely recommend this to friends and colleagues who want to travel to Myanmar and are limited on time.
DON'T FORGET TO CHECK OUT
Related Tours
Our Myanmar Express tour covers most of the must see cultural highlights of the country. Starting from Mandalay you will get to visit the old royal capitals in Mandalay, Ava, Amarapura and...