Elina is a private heritage walking tour expert who unveils the secrets of Yangon (Rangoon). With 23 years of experience in the industry, Elina loves to share her knowledge, passion for the city and fascinating stories of a bygone era in once the most advanced city in the Fareast. We asked Elina to share some details on Myanmar.
Why should people visit Myanmar?
Myanmar has a unique history, which has led to a blend of cultures with influences from the colonial era, but also India, China and Thailand. Myanmar people have knitted their own unique cultural style out of their history. They are a beautiful, proud people, with a gentle lifestyle and are genuinely friendly. Even if people are lacking many modern aspects in life one can get a glimpse of a bygone era here and discover rich culture and vibrant communities. People still have time to meet friends in tea houses and enjoy socializing.
What's your favourite destination to show in Yangon?
Obviously the heritage centre, located downtown, but also the less-known areas such as east from Maha Bandula Park, which is the predominant Burmese area of the city. This area houses numerous colonial era buildings that lack a written history. My absolute favourite building in Yangon is Sofaer building, on the corner of Merchant St and Pansodan Road. With its history of cosmopolitan inhabitants; I can only wish that the walls could talk.
What's the secret to giving a great walking tour?
The most important aspect is the ability to tell a story that flows throughout the walk. You have to be passionate of the history that you are talking about. You also have to have the imagination to see the people still living in the old buildings and selling their items on the streets; you have to believe in it yourself.

What's an interesting story about Yangon that most don't know?
For me, although it is not only about Yangon, the most interesting story is the tragedy and drama that is linked to the 3rd Anglo-Burmese war. It is complicated, exciting, full of passion and drama, and worth making a movie about. It includes one of the biggest trading houses, Bombay Burmah Trading Company, the last king of Burma, the arch rivals Britain and France, and of course, a love story. To find out the full story, you have to come on a walk with me.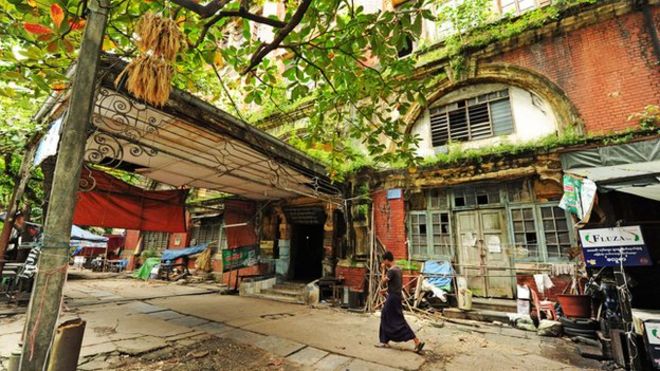 To book a private walking tour with Elina, contact Discovery DMC